Why not treat yourself to a Masterclass? We have some amazingly talented, well known people coming to run workshops – details below…
To book workshops contact Sheron King
Phone: 01752 291260/ 07795805520
Email:  sheron@madhattersstudio.com
Delicious homemade lunches made with locally sourced produce at special introductory price of £8.50 per lunch payable with bookings
Cas Holmes `Images and Narratives in Textiles: Restructured Books`
24th/25th May 2014 10-4pm £135
 Glenys Mann `Message Bearers/Postcards/Journal`A unique workshop with Glenys Mann from Australia -textile artist and International Exhibitor
1st&2nd Nov 2014 10-4pm £150
For more details on masterclasses, see below…
Cas Holmes Images and Narratives in Textiles: Restructured Books
24th/25th May 2014 10-4pm £135
Cas trained in fine arts and works between the disciplines of painting, drawing and textiles. Salvaged materials are torn, cut and re-assembled to create mixed media pieces which draw their inspiration from 'hidden' or 'overlooked' observations of daily life.
She makes reference to the views from windows, the weeds and flora on the verges of roadsides and the places where our gardens meet the landscape. This relationship between 'Urban' and 'Nature' has been informed by stories of her Romany grandmother, old and forgotten textiles, and the natural cycle of growth, decay and renewal.
Images and Narratives in Textiles: Restructured Books: Artists always make reference to other images and narrative. In this workshop we investigate methods of combining text with imagery using magazines, manuscripts, old books and photocopies as a starting point for textile based work and design ideas or combined with a simple book theme. You can use an old book as a starting point to create a new work .The book you decide to you use will direct the content and processes used from layering and cutting techniques through to stitch, dye and print. This is not a book-binding course.
www.magpieofthemind.blogspot.com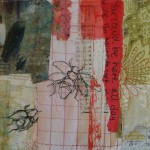 Glenys Mann `Message Bearers/Postcards/Journal`A unique workshop with Glenys Mann from Australia -textile artist and International Exhibitor
A 2 DAY WORKSHOP to push those that want to be pushed beyond what they had expected
 In this workshop, participants will explore new ways of mark-making.  There are many ways to make a mark.  A stitch makes one kind of mark, a paintbrush another, a hammer and nail another.  Working with various types of fabric and paper, we will experiment with different methods of mark-making including stitching, resist, as well as more unconventional means such as piercing, folding and burning.  This collection of richly activated surfaces will be constructed into simple bound and folded Journal forms.  Participants will be asked to bring a group of their own personal materials to make their journals individual expressions..
GLENYS MANN
Glenys Mann finds herself getting even more radical with her work – pushing both personal and technical boundaries – allowing time to respond 'to' the cloth, rather than force it to fit to some preconceived plan – Glenys limited only by the rate at which she travels toward new horizons.