Why not treat yourself to a Masterclass? We have some amazingly talented, well known people coming to run workshops – details below…
To book workshops contact Sheron King
Phone: 01752 291260/ 07795805520
Email:  sheron@madhattersstudio.com
Delicious homemade lunches made with locally sourced produce at special introductory price of £8.50 per lunch payable with bookings
For more details on masterclasses, see below…
 Chrissie Day `Extreme Nuno Feltwork ` Sat&Sun 7th/8th March 2015
Fibre artist, author and international teacher
http://www.feltingfibres.com/home.html
Priscilla Jones` Lost and Found Mixed Media Sculpture  workshop` Sat&Sun May 9th/10th 2015 £150
Priscilla creates  sculptures that draw upon her life long love affair with here vast collections of odd an curious objects.  During this two day workshop, Priscilla will share with you the creative techniques developed through her experimentation and process of making.  You will make your very own 3D sculpture inspired by whatever theme you wish… using wire, wax, and found ephemera. You will learn a range of processes including how to construct a wire structure that can be in 3D or 2D using light weight wire and then work into this by creating a surface to hand stitch and embellish with paper, buttons, beads and trimmings. Materials will be provided all you need bring is enthusiasm and some found objects or materials from your own collecting. This is a perfect opportunity to develop ideas you may have started in previous workshops with Priscilla or you may wish to come along and learn a range of new and exciting techniques!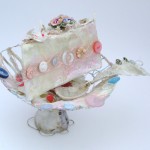 Ruth Brown `Cyanotypes on Fabric`4th&5th July 2015 £140
This is an introduction to the wonderful techniques of cyanotyping on fabric; a method from 1841 for producing beautiful, detailed white photographic images on a Prussian blue background. We will cover preparing the light sensitive fabric, producing photograms (printing flowers, foliage, lace and many other objects). We will also touch on tinting the final image. All in all a blue and white extravaganza!